Earlier this month, there was this headline in the
Guardian U.K.
:
"WikiLeaks: Secret whaling deal plotted by US and Japan."
It gets worse. Here's the subhead:
"
American diplomats proposed Japan reduce whaling in exchange for US help cracking down on the anti-whaling activists Sea Shepherd, leaked cables reveal
."
And there was this incident in 2010 where a Japanese whaling ship, the Shonan Maru No. 2, struck and destroyed Sea Shepherd's $2 million activist ship, the Ady Gil: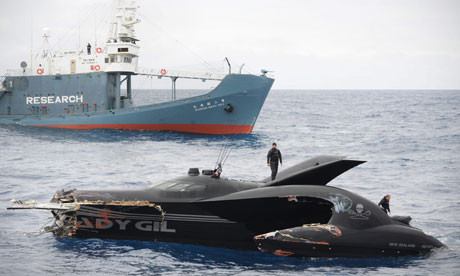 (Photograph: Jo-Anne McArthur/Sea Shepherd Conservation Society/EPA)
See a video of the collision
here
. The article goes on:
"The American proposal would have forced Japan to reduce the number of whales that Japan killed each year in the Antarctic whale sanctuary in return for the legal right to hunt other whales off its own coasts. In addition, the US proposed to ratify laws that would 'guarantee security in the seas' – a reference to acting against groups such as Sea Shepherd that have tried to physically stop whaling."
Sea Shepherd's founder, Captain Paul Watson, responded:
"The US government may have very well looked into Sea Shepherd's activities and if they did so, then they obviously did not find any irregularities or unlawful activities because Sea Shepherd was never contacted by any US government official in connection with this matter. For Sea Shepherd, the most important part of this document is the declaration by Japan that Sea Shepherd has been responsible for the whaling fleet not reaching their quotas for the last few years. This completely validates Sea Shepherd's actions as effective."
Read the rest of the story (by John Vidal)

here!